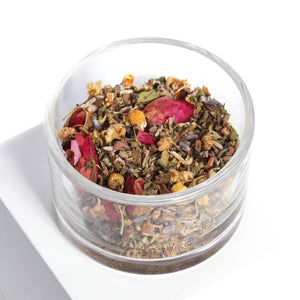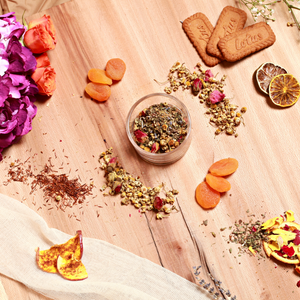 W H O L E | BLEND
...You deserve to be made WHOLE; and that's on healing. 

WHOLE BLEND | intimate house tea formulated with your healing in mind. It's a lot to live this life according to His word. You'll need a little TEAcouragement to keep you steady, willing and able.
TEA PROFILE | Fights off stress; decreases inflammation, enhances bone strength; promotes relaxation, antioxidant. Enhances immune system and improves blood circulation. 

12 CUPS PER ORDER

WHEN TO DRINK | Afternoon-Night
WHAT'S IN THE TEA 
White tea (base)
Rose Bud Flowers
Lemon Dust

Lavender
Cinnamon
Chamomile
NOTE: All tea purchases will include 3 hemp bags; free
All tea orders are made to order and will take 10 days from order to shipping.
*tea & infusions (blend) may not be used for medical use; although ingredients in every blend have medicinal uses Black Wholeness Collective is not a doctor; nor able to provide medical diagnosis for your health. ONLY you, THM and your PRIMARY CARE DOCTOR can do that. Dropping this here so:
1. Don't get fined and 2. Cause the world is an interesting place and we have to have a disclaimer such as this.