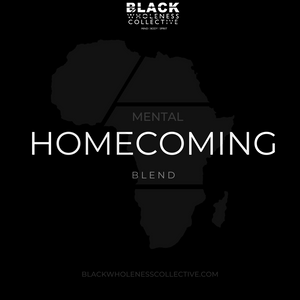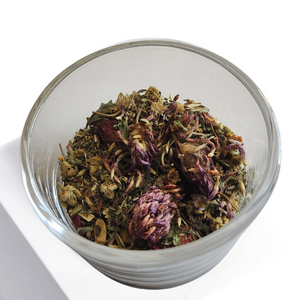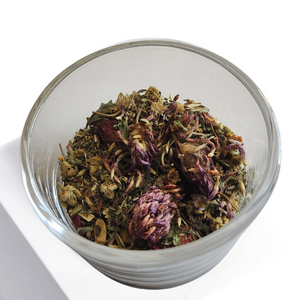 MENTAL HOMECOMING | BLEND
MENTAL HOMECOMING BLEND | intimate house tea formulated with your safe return home in mind. We see you doing the most, driving your body into the ground for all of your own reasons. It's time for your mental homecoming. SIT | SIP & HEAL.
TEA PROFILE | Destress and reduce anxiety, strengthen bones, helps fight viruses and bacteria, improves sleep, relaxation and rejuvenated rest, relieves muscle aches and headaches, enhances mental performance, decreases cramps, and an anti-inflammatory. 

12 CUPS PER ORDER
WHEN TO DRINK | NIGHT (only)
WHAT'S IN THE TEA 
Lemon Balm
Golden Mellow (Ashwagandha, Cinnamon, Ginger, Lucuma, Turmeric, Blk Pepper)

Straw Green Tops
Mugwort
Red Clover

Spirulina

Chamomile

Lavender
Rose Buds
All tea orders are made to order and will take 10 days from order to shipping.
*tea & infusions (blend) may not be used for medical use; although ingredients in every blend have medicinal uses Black Wholeness Collective is not a doctor; nor able to provide medical diagnosis for your health. HOWEVER, all ingredients have been researched in regards to pregnancy and breastfeeding. They do not fall on the FDA cautionary herbal list; by design. Dropping this here so:
1. Don't get fined and 2. Cause the world is an interesting place and we have to have a disclaimer such as this.