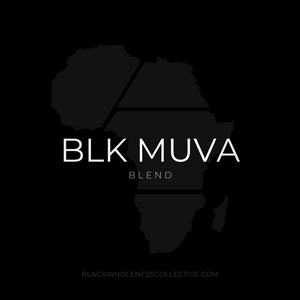 BLK MUVA | BLEND
BLK MUVA BLEND | intimate house tea formulated with your pregnancy and breastfeeding in mind. We love our #BLKMUVA; this tea is a tribute to the women bearing the children. We need you to take care of yourself too...

TEA PROFILE | Eases stress; Aids sleep and fetal development, Motion and morning sickness, decreases inflammation, antioxidant; treats dizziness.  

WHEN TO DRINK | Morning/Afternoon
WHAT'S IN THE TEA 
Lemon Balm
Ashwagandha
24K Gold Edible Flakes
Beets
Cinnamon
Goji Berries
Ginger

Turmeric
South Africa Red Rooibos
All tea orders are made to order and will take 10 days from order to shipping.
*tea & infusions (blend) may not be used for medical use; although ingredients in every blend have medicinal uses Black Wholeness Collective is not a doctor; nor able to provide medical diagnosis for your health. HOWEVER, all ingredients have been researched in regards to pregnancy and breastfeeding. They do not fall on the FDA cautionary herbal list; by design. Dropping this here so:
1. Don't get fined and 2. Cause the world is an interesting place and we have to have a disclaimer such as this.